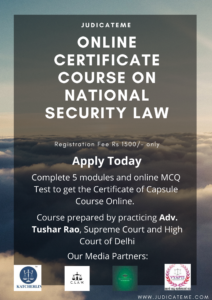 About the Organisation:
JudicateMe is an open access, peer-reviewed journal on Law, Science and Management. It aims to seek and share comprehensive information including research projects, case analysis, blogs on various legal issues, scientific developments and management related areas.
Objective of JudicateMe is to provide a common platform for students, scholars, academicians and practitioners to share their knowledge and strengthen their subject domain by learning about latest developments happening globally in their field of interest.
About the Course:
The course of National Security Law describes the growth of national security law as a discipline and the conflict with the rule of law and with human rights that occur while adjudicating national security issues. It will demonstrate complex legal, jurisprudential and practical issues, often at the cutting edge of practice and academic inquiry.
The course will provide you an insight into the Preventive Detention Act, Armed Forces (Special powers) Act, Unlawful Activities(Prevention) Act, Maintenance of Internal Security Act, National Security Act, Terrorism and Disruptive Activities (Prevention) Act, Prevention of Terrorism Act, Unlawful Activities (Prevention) Act Amendments. India's security laws framework is not restricted to one or two laws but is instead a persistent logic frequently used against minority communities and dissenters critical of the government of the day and its policies. The course will provide complete knowledge about the laws of India that are part of National Security till date and its comparison with different countries as well.
This Course has been prepared by Adv. G. Tushar Rao, Supreme Court and High Court of Delhi.
Course Outline:
Module 1- Theoretical perspectives on national security law

Introduction to National Security Law
Separation of Powers in the National Security Arena
National Security Powers of the President
National Security Powers of the Parliament
"Law fare" in Modern Conflict
Module 2 – Use of Force in International Relations with reference to Biological Threats and Responses.

The Use of Force in International Relations
The Law of Armed Conflict
Biological Threats and Responses

Module 3 – Right to Privacy and National Security

Privacy and Surveillance in a Digital World
Detention Issues in the Struggle Against Terror
State Secrets Privilege
National Security Implications of Immigration Law and Policy

Module 4 – Recent Challenges to National Security and Legal Recourses

War Crimes and Their Prosecution
The Foreign Affairs Power: Presidential and Congressional Authority
The Use of Economic Sanctions

Module 5 – International Law and Cyber War with reference to Terrorism

Transnational Organized Crime
Transnational Terrorism
Technology, Privacy and National Security
The Role of the NSC Legal Advisor
Law and Warfare in the Cyber Domain
International Law and Cyber War
Taking Control of Our Cyber Future
Contemporary Issues of Maritime National Security Law
Legal and Policy Aspects of Combating Weapons of Mass Destruction Proliferation
Drones in Armed Conflict: Law & Policy
Contemporary Security Challenges – the ISIL Threat
Important Information about this online Course:
Duration: Students can anytime in their lifetime complete the course after registration. No fixed duration.
Course Fees: Rs 3000/- (Payment through Credit & Debit card, NEFT, Paytm, Google Pay, UPI).
New fee for the period of lockdown: Rs. 1500/-
Online Evaluation Method: Based on "Multiple Choice Question (MCQs)" and an "Assignment Submission" of 500 words. The score of the online examination will be taken as final result and Grade will be assigned as per the following scheme: Grade A – 80-100, Grade B – 65-79, Grade C – 50-64, Reattempt – Below 50
Course Material: JudicateMe e-compendium of all modules will be given after the registration of the student.
 Administration of the Course:
Duration of the Course will be max. 5 weeks but you have privilege to complete the course anytime in your lifetime after registration.
Test shall be assigned by the team of JudicateMe on a particular day which shall be completed within 24 hrs.
After the valuation of marks, you will receive course certificate.
Students with exceptional marks will receive Honour Certificate along with internship opportunity with JudicateMe.
Who should take this course?
Lawyers/Law students
Social Workers
Journalists
Government officers
Anyone who is interested