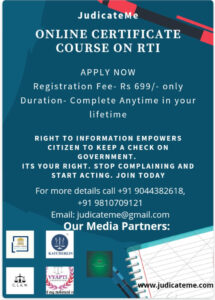 About the Organisation:
JudicateMe is an open access, peer-reviewed journal on Law, Science and Management. It aims to seek and share comprehensive information including research projects, case analysis, blogs on various legal issues, scientific developments and management related areas.
Objective of JudicateMe is to provide a common platform for students, scholars, academicians and practitioners to share their knowledge and strengthen their subject domain by learning about latest developments happening globally in their field of interest.
About the Course:
Right to Information has been implemented by the Government of India to empower its citizens by promoting transparency and accountability in the working of the Government. It aims at empowerment of the common citizen with ideas and information to seek entitlements and to participate in the process of democratic governance. This Act fosters an informed citizenry and participative decision making process giving right to Citizen to seek information, inspect work or record, take samples, and monitor progress and performance of Governance.
The course will provide you an insight into the Right to Information Act, 2005 along with procedure of filing an effective RTI application. The course gives a practical applicability of RTI Act and brings all relevant information at one platform. Citizens should be aware of their right to seek information and thus, in public interest, the course is offered at very low price by only charging for course material provided to students.
Course Outline:
Module 1- A General Overview of the RTI Act and Explanation of Important Concepts /Terms in the Act
Module 2- Public Authorities and their Obligations under the Act
Module 3-Role of Public Information Officers: PIOs and APIOs –
Accepting an Information Request, Processing and Disposing
Module 4- The roles and responsibilities of Appellate Officers within Public Authorities.
Module 5- Information Commission: Powers and Functions
Module 6- RTI and Good Governance:
Module 7- RTI online/offline filing procedure
Important Information about this online Course:
Duration: Students can anytime in their lifetime complete the course after registration. No fixed duration.
Course Fees: Rs 1500/- (Payment through Credit & Debit card, NEFT, Paytm, Google Pay, UPI)
New fee for the period of lockdown: Rs. 699/-
Online Evaluation Method: Based on "Multiple Choice Question (MCQs)" and an "Assignment Submission" of 500 words. The score of the online examination will be taken as final result and Grade will be assigned as per the following scheme: Grade A – 80-100, Grade B – 65-79, Grade C – 50-64, Reattempt – Below 50
Course Material: JudicateMe e-compendium of all modules will be given after the registration of the student.
Administration of the Course:
Duration of the Course will be max. 5 weeks but you have privilege to complete the course anytime in your lifetime after registration.
Test shall be assigned by the team of JudicateMe on a particular day which shall be completed within 24 hrs.
After the valuation of marks, you will receive course certificate.
Students with exceptional marks will receive Honour Certificate along with internship opportunity with JudicateMe.
Who should take this course?
Lawyers/Law students
Social Workers
Journalists
Government officers
Anyone who is interested in filing RTI or to attain information about their Right.